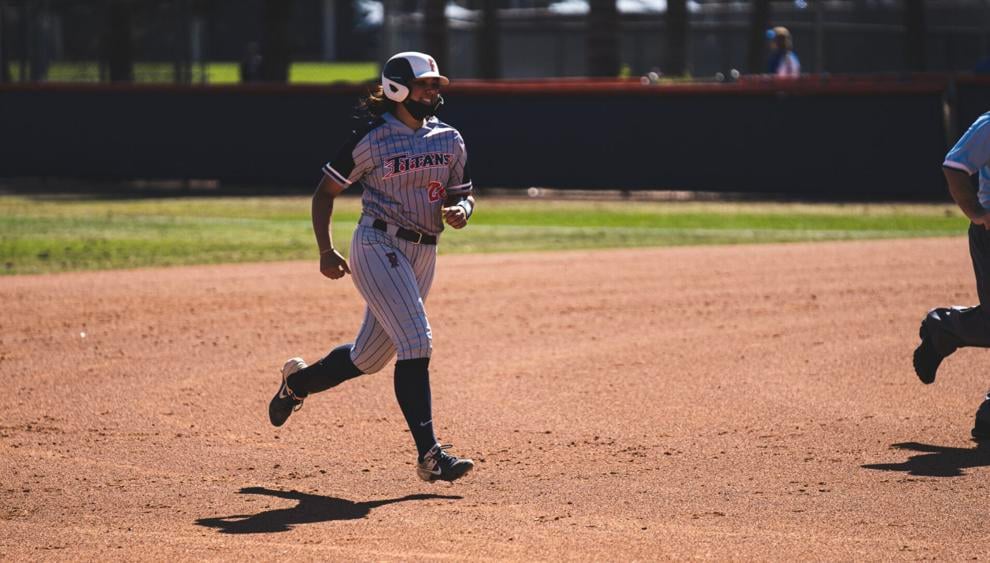 The Cal State Fullerton softball team split its doubleheader with the University of San Diego Toreros on Monday, which brought their season record to 5-7. The Titans started strong with a 3-1 win over the Toreros, but could not hold up in game two and lost, 0-1.
In game one, pitcher Sophie Frost held the Toreros to four hits and one run while she gave up three walks and struck out nine en route to pitching a complete game. The Titans offense helped back a strong outing by Frost and put up two runs in the third and another in the sixth to beat the Toreros, 3-1. 
The Titans had a break in the third inning when they put two runs on the board and took the lead for the rest of the game. Daisy Munoz got the scoring going with a fielder's choice RBI. Irie Siofele then got an RBI single which brought in the second run of three for the Titans. 
The Toreros struck back immediately in the bottom of the third inning and cut the Titan lead to one. The score stayed in favor of the Titans, 2-1, until the sixth inning. Julia Valenzuela got a single in the sixth and put herself in scoring position at second base; eventually she scored a run off of a throwing error by the Toreros. 
During game two, in her fifth appearance of the year, freshman pitcher Savannah Serrata held the Toreros to four hits through five innings and struck out two. Fullerton did not have much offense to back up Serrata with only four hits in the game, as the Titans lost the game, 0-1.
In the fifth inning, Serrata made a pitch that proved to be crucial when she gave up a leadoff triple, followed by a single, which brought in the first run of the game for San Diego. She proceeded to get three-straight outs after to end the inning and thwart any further scoring chances by the Toreros.
The first hit for the Titans did not come until the third inning when Kelsie Whitmore singled to center field. Getting the second hit of the game on a fielder's choice, freshmen Peyton Toto stole second, but was left on base. 
Valenzuela started off the fifth with a double and Jessi Alcala advanced her to third with a sac bunt. Whitmore walked after that to put runners on the corners for the Titans. Whitmore went on to steal second and put on the first real threat for the Titans. Kika Ramirez came in to pinch hit for Bailey Wallace, but popped out to third to end the fifth inning. 
Valenzuela ended the game as she went 2-3 at the plate.
The Titans will play on Wednesday at 4 p.m. at Cal Baptist University for a single game against the Lancers on the road.