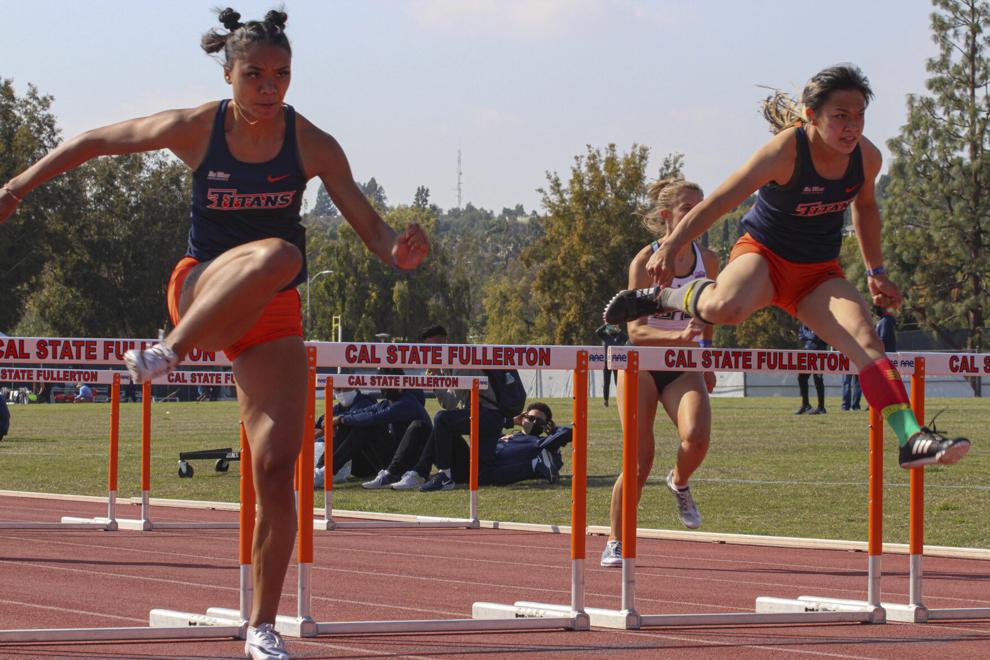 On Thursday, Cal State Fullerton's track and field teams will be taking on UC Irvine at the OC Dual, following their two meets last week in Las Vegas, Nevada and Azusa, California.
At the Bryan Clay Invitational in Azusa, distance runner Sam Ayala broke his personal record in the men's 1500-meter one week after breaking a Big West record with a time of 3 minutes, 43.05 seconds.
On the women's team, Sam Huerta and Trinity Ruelas continue to gain momentum from their last meet. Huerta broke a new personal record in the women's 1500 at 4 minutes,18.20 seconds. Ruelas also set a new personal best, finishing the 5000-meter in 16:29.86.
Demi Marine finished the women's 10,000-meter at 37:03.45, earning herself a new personal best and a spot on CSUF's top 10 all-time list.
At the Silver State Classic, the men's team finished in first place and the women's team finished in second. Both of the teams made advancements to look forward to.
The women's 4x100 relay team of Deja Allain, Naiah Boardingham, Amir'a Edmond and Hailey Murdica placed second with a time of 46.63 seconds. The 4x400 team comprised of Maya Occiano, Madison Moku, Jenna Krostag and Deja Allain and placed third with a time of 3:58.46. Maya Occiano came in second place in the women's 400-meter hurdles at 1:01.77.
Iesha Hamm remains undefeated in the 2021 outdoor season after winning the women's high jump at 1.78 meters, or 5 feet, 10 inches. Jelani Minx finished the high jump in third with a jump of 5-3 ¾ and moved up to the eighth spot on the Titans all-time list.
The throwers on both teams excelled this week as well. Sinai Fatafehi won first place in the women's hammer throw and beat her personal record at 55.31 meters. Connor Anderson is one to look out for at the next meet, as he made his way closer to beating the school record with a throw of 195-8. Corey Gilbert won second place in the men's discus at 53.55 meters.
After the OC Dual, the team will only have one more event before the Big West Championship begins. Their last event before the championships will be the UC Riverside/Long Beach State Invite on April 29 and April 30.