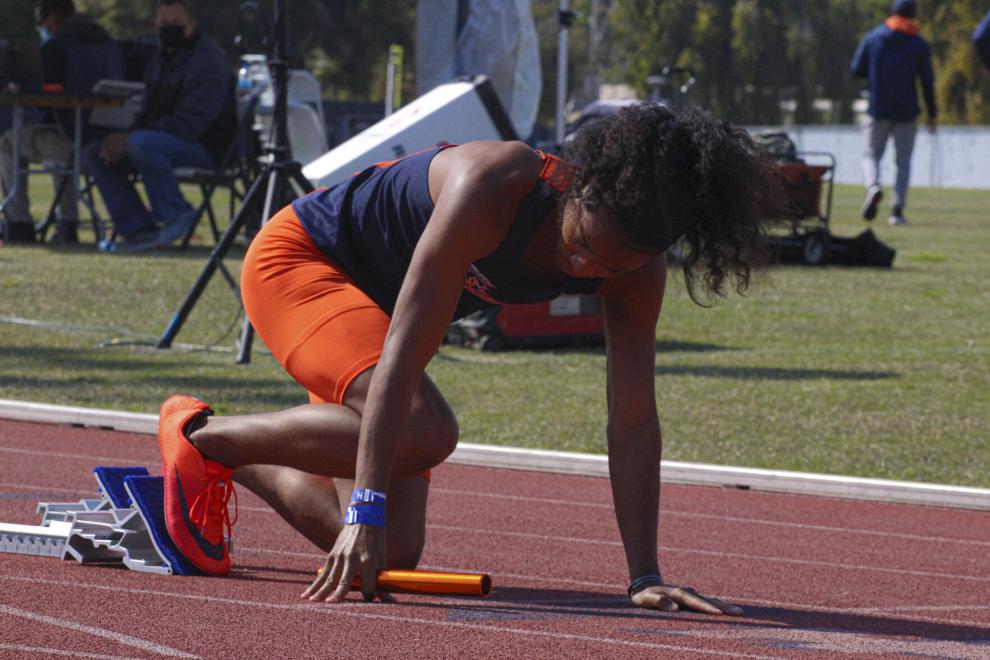 Cal State Fullerton's track and field teams participated in a pair of meets over the weekend, where the men's team took home the victory and the women's team came in second at the Silver State Classic, in Las Vegas, Nevada. 
The women and men throwers excelled during the hammer throw and shot put events on Friday at the Silver State Classic. Sinai Fatafehi won the women's hammer throw while she beat her own personal record with a new best of 55.31 meters.
In men's hammer throw, Connor Anderson placed third with a toss of 59.64 m, setting him closer to besting the school record of 61.82 m. 
In Saturday's track events, the women's 4-x-100 m relay team placed second, with the squad composed of Deja Allain, Naiah Boardingham, Amir'a Edmond and Hailey Murdica finishing with a time of 46.63 seconds. 
When the Titans returned on the second and final day of the meet, Fullerton achieved new bests, such as Christian Wood who leaped 7.20 m which landed him second place in men's long jump. Reyte Rash set a personal record with a time of 52.52 in the men's 400 hurdles. 
Corey Gilbert managed to secure second place in the men's discus with a throw of 53.55 m,  and Maya Occiano also beat her personal best in the women's 400 with a time of 1:01.77, enough for second place.
Remaining undefeated in the 2021 outdoor season, Iesha Hamm won the women's high jump with 1.78 m. Jelani Minx snatched third place after clearing 1.62 m, moving her up to the eighth spot on the Titans All-Time list.   
Back in Azusa, California, Fullerton's distance runners scored some new personal records on day one of the Bryan Clay Invitational. 
Trinity Ruelas finished with a time of 16:29.86 in the women's 5000 m, breaking her school record of 16:32.56 which was previously set in March 2019. Meanwhile, Sarah Hollis came in sixth and surpassed her best time by over 10 seconds in the women's 3000 m steeplechase. 
On the men's team, Bobby Brana finished in sixth with a time of 9:14.34 in the 3000 m steeplechase with Tony Chavez not far behind as he came in seventh with a time of 9:42.85.  
Closing out the meet on Saturday, distance runner Sam Ayala finished with a time of 3:43.05 in the men's 1500 m, surpassing his own school record, just one week after breaking Steve Frisone's 27-year-old record at the Fullerton Spring Invite. 
Sam Huerta landed in eighth place during the women's 1500 m, setting a new personal best of 4:18.20. Demi Marine placed eleventh with a time of 37:03.4 in the women's 10,000 m, allowing her to secure a spot in the Titans Top 10 All-Time list. 
The sprints and distance runners will return on April 22 to compete in the OC Dual hosted by UC Irvine.