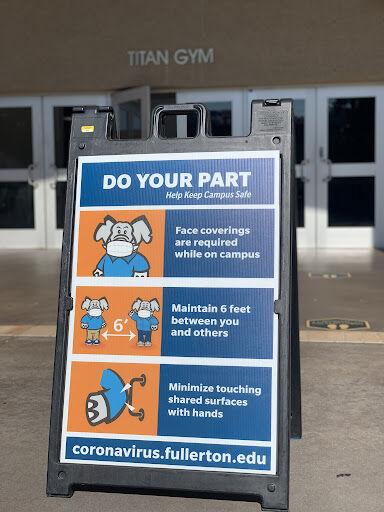 The return of fan attendance at Cal State Fullerton sporting events this fall came with health and safety guidelines issued by the university.
On Aug. 9, the Office of the President instituted President's Directive No. 22, detailing COVID-19 mitigation measures and guidelines. In accordance with the directive, CSUF Athletics released a set of guidelines that outlined protocol for fans attending volleyball and soccer matches, the two currently active fall sports.
The guidelines and requirements will run in conjunction with Directive No. 22, staying in effect at least until Sept. 30, 2021. Here is everything that fans need to know when they show up to support CSUF's volleyball and soccer teams this fall season.
Titan Stadium and Titan Gym
Attendees at Titan Stadium are encouraged to wear facial coverings, but are not required to if they are vaccinated. Per the release, "unvaccinated individuals may remove facial coverings if a distance of six feet from others can be maintained." Hand sanitizing stations are set up at the entrance of the stadium and in the concourse.
Attendees at Titan Gym are required to wear face coverings regardless of vaccination status. Hand sanitizing stations are set up at the entrance of the gym and in the foyer.
No Fan Interaction
Seating is open at both venues, but fan interaction with coaches and student-athletes is prohibited. According to the release, "This includes family members and friends of individuals participating in competition. Teams will depart to the locker room post-game without interacting with event attendees."
Autograph sessions will not be held this season and youth will not be allowed on the court or field.
Follow University Guidelines
Titans Athletics also emphasized the importance of adhering to campus policies while on campus, as well as staying home if an individual feels sick.
The guidelines in place have Assistant Athletic Director of Sports Medicine Jaime Potter optimistic about the direction of fan attendance and university athletics. She said that last year was a struggle, but praised the athletic department's efforts to operate safely and efficiently.
"Last year, I think it was a very tight spot for everybody," Potter said. "We were very fortunate to have some collaboration with our health center and then an amazing collaboration amongst the Big West to really kind of put all of that together and make it happen."
Potter said above 90% of Cal State Fullerton student-athletes will be vaccinated by mid-September and that testing for unvaccinated athletes is done three times a week. Above all else, she said the athletic department has prioritized a balance of health and safety to create a safe environment for the student-athletes.
The return of fans in the stands is something Potter said has helped the student-athletes both on and off the playing field.
"I think our student athletes and our staff are really excited to be back on campus; being able to see more people on campus and interacting and actually being in class. It is an engaging piece that we haven't had for so long. That really does give us hope and gives us some excitement," Potter said.
The guidelines were released in anticipation of the Titans' women's soccer home opener against UCLA, which was played at Titan Stadium in front of 7,832 fans, the fifth-largest regular season crowd in NCAA women's soccer history.
Each Welcome Back Game is free to all in attendance. The next free game is Friday, Sept. 17 for the men's soccer match against San Francisco.