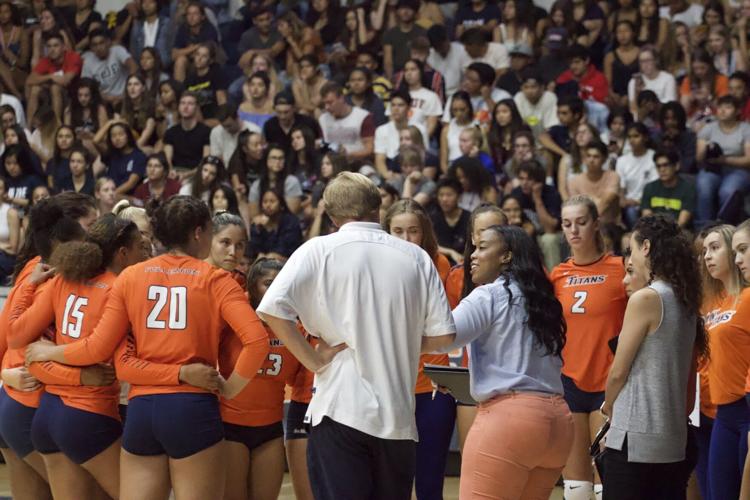 If last season was any indication, Cal State Fullerton volleyball was poised for success this year. 
With 17 total wins in Ashley Preston's first four years as head coach, the Titans made tremendous strides as they went 12-15 last year. Although they finished seventh in the Big West standings, it was their best finish since 2012.
However, the chance to further improve on the court is on pause, as they, like many other teams, had their 2020 season postponed due to the COVID-19 pandemic. 
Before the announcement was made on July 29, all CSUF fall sports were unsure what was going to happen at the start of their seasons. In hopes of being prepared, Preston said she wrote down in her journal what she and the coaches would do for any scenario. 
While it was not what the team had hoped for, the announcement from the Big West board of directors allowed the coaching staff to develop a plan, and it is not just focusing on volleyball but rather it's educating and building up the young athletes on the team. 
"It really came down to OK, what would we want our young women to learn about themselves?" Preston said. "I really realized and I had to check myself through these moments. Like, what am I doing as a woman, especially as a black woman, to uplift my young women and also show them representations of women that they would never maybe come across?"
The topics discussed range from the effects of the pandemic to racial and social justice issues going on in the country. Senior outside hitter Alicia Dennis said the conversations between the team were much needed, with assistant coach Nicole Polster adding that the coaches wanted to create a safe space for everyone to say what they want to say, which includes words of encouragement and affirmation.
"We have so many different people on our team, and I think it's good to talk about it. You have to realize where your other teammates are coming from, and it's important to know what's going on in the world and it's important to educate our young woman," Polster said. "Volleyball is a lot of their lives, but there is something beyond that."
Part of helping educate the team is that every Friday the coaches invite women from different career fields to talk on their Zoom meetings. One of those speakers included Romarilyn Ralston, program director of Project Rebound at CSUF.
The program, which came to Fullerton in 2016 after its expansion from San Francisco State to other CSU campuses, provides assistance to formerly incarcerated students so they may succeed in school. 
Ralston discussed political processes, advocacy and activism with the team, while stressing the importance of having a personal perspective.
"I thought it would be an important addition to have my voice heard as African American staff person, but also to speak to women of color on the volleyball team, who at this point in time and history, may be experiencing a lot of stress and anger and frustration with systemic racism in this country," Ralston said. "I played volleyball myself when I was in prison, so it was a way for me to connect with a sport that I loved when I was a little younger. But also to encourage women to speak out against racial and gender bias."
Crediting her master's degree in publications design, Preston said she has found different ways for her team to bond virtually and give everyone the chance  to learn things about each other that they normally wouldn't.
A favorite activity to learn about each other was a cookbook Preston made up of traditional family recipes from everyone on the team. From Preston's polish perogies to Dennis' soul food to Polster even making guacamole live on Zoom, despite her distaste for cooking.
Polster said that she was not fond of Zoom when the team first started meeting on it, but over time she has gotten comfortable and considers herself an open book. Part of her openness is sharing her Korean culture, and the story of her celebration of 100 days of life. 
Known as Baek-il, the celebration is held when a baby turns 100 days old, as newborn mortality rates were high long ago in Korea. Although dates on pictures from her Baek-il are close to her first birthday, Polster's family held the huge party as part of the tradition. During the celebration, trinkets are laid out and if the baby grabs a certain one, it's a sign of what will be in the baby's future. 
Of the trinkets, she went straight for the money, which signifies wealth. The move didn't surprise anyone in Polster's family, and when she shared the story with the team, Preston was not surprised either. 
"It was kind of funny. She picked up the money, which if you knew Nicole Polster, I'm like, yeah, you definitely picked up the money," Preston said.
The coaching staff said that all of the bonding mixed together makes the perfect recipe for a tighter unit whenever the team can return to the court, which could be in the spring. While there is no time table for when they will all meet in person, Preston will continue to push her vision and purpose, which is to create a dope culture and help women be the heroes of their own story.