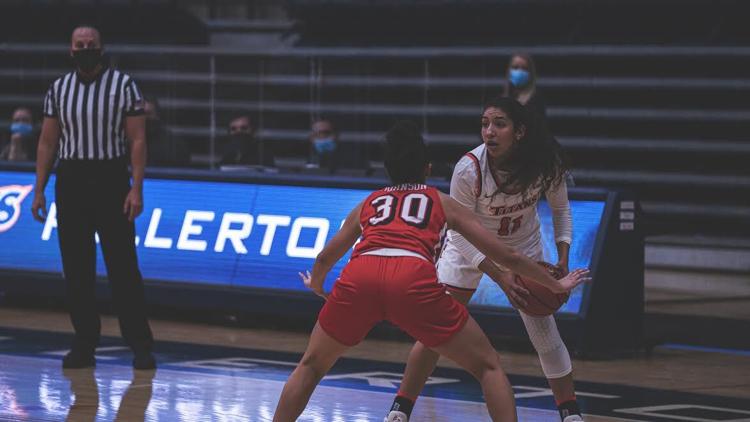 After losing to UCLA last Friday in the season opener, Cal State Fullerton's women's basketball team looked to bounce back from last week's performance and get its first win of the season during the home opener Wednesday night versus UNLV.
However, the Titans had little to no answers against UNLV's Lady Rebels, who cruised to an 81-67 victory, with Fullerton falling to 0-2 to start the season.
UNLV got off to a rough start, as they got into early foul trouble and put the Titans in the bonus during the first quarter after just three minutes of play. However, UNLV led by one point heading into the second quarter, and a 14-2 run during the second quarter put the Lady Rebels in the lead for the rest of the game.
Bailey Thomas, Lady Rebels senior guard, had a great night, finishing with a game-high 26 points off of 8-for-8 shooting, with 18 of her points coming from beyond the arc.
Alongside her sister, Jade, the Thomas' sisters ended up giving an excellent performance offensively, with a combined total of 42 points.
Last week, the Titans committed 25 turnovers in their blowout loss to UCLA, while also allowing the Bruins to get 19 offensive rebounds, compared to CSUF's nine.
CSUF women's basketball head coach Jeff Harada said prior to the UNLV game that he wanted to see the team rebound better and take better care of the ball. However, both turnovers and rebounding continued to be an issue in this game, as CSUF committed  25 turnovers and were outrebounded on the offensive glass by eight rebounds. UNLV also forced nearly half of CSUF's turnovers, finishing with 12 steals compared to CSUF's four.
After the game, Harada said he held himself accountable for the defensive effort that was put forth in the loss.
"We just got to be better on defense, talking and communicating. We had a game plan and didn't execute very well, I'll take ownership for that," Harada said.
Amiee Book, junior forward, led the Titans in scoring with 16 points, while Joy Krupa, senior forward, finished with 12 points, 12 rebounds, seven assists and four blocks during Wednesday night's game. Although the pair put up decent numbers, CSUF's offense couldn't get into a rhythm and missed open layups that could have ended UNLV's runs early in the game. 
Late in the fourth quarter,  the Titans were able to go on their own run, cutting their deficit from 21 points to 12, but by this point, it was too late.
Despite the loss, Harada said he did see improvement from last week's game and overall, was proud of the team's effort.
"I was proud that we stayed competitive, we made some runs in the second half, which was good. If we had that kind of urgency and energy in the second quarter, maybe the score wouldn't have been what it was and it might have been a different result," Harada said.
Although CSUF's offense was not executed as smoothly as anticipated, the team still finished shooting 46% from the floor, while UNLV only shot 39.7% from the floor. However, CSUF only had 24 free throw attempts compared to UNLV's 35, another aspect that Harada brought up during a postgame interview.
"We got to do a better job getting to the free throw line and we got to stop fouling," Harada said. "It was hard because a lot of our kids had two fouls in the first half, so they couldn't play." 
The Titans will return to their home court in search of their first win of the season next week versus the University of San Diego, which tips off at 5 p.m. Tuesday at Titan Gym.