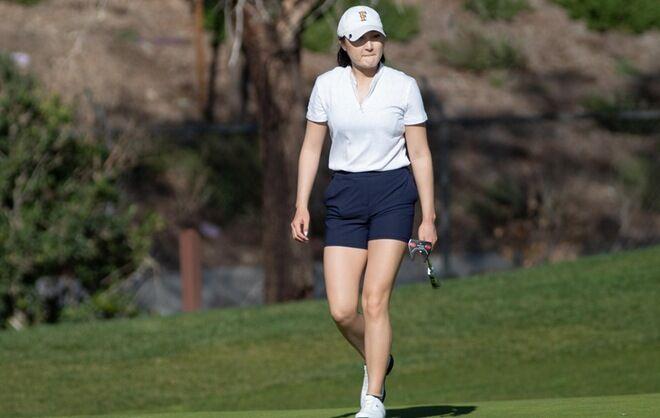 The Cal State Fullerton women's golf team finished in third place at the Moorpark Intercollegiate on Friday, scoring a team total of 46-over 622 during two rounds of play. 
Pepperdine led the invitational finishing the morning with a team score of 2-under-par 574, while New Mexico State followed behind them with a team score of 16-over-par 592. The Titans finished in third place in the three-team tournament. 
Fullerton's Haruka Koda was the top player for the Titans, scoring a team-high 4-over-par 148 while tying for sixth place individually. She started the morning shooting 75 in the first round and followed up in the second round shooting 73.
Fellow Titan Brittany Shin tied for 10th-individually shooting 6-over 150 in two rounds of play. The sophomore shot a score of 78 in the first round and improved in the second round, shooting an even par-72. 
Three Titans, Lisa Djerf, Sofia Legaspi and Sara Camarena, finished tied in 16th, shooting 20-over-par 164. Djerf shot a score of 82 in both the first and second round. Legaspi shot 80 and 84 respectively in the first and second round, while Camarena shot an 84 in the first round and an 80 in the second round. 
Four Pepperdine golfers finished in the top four, with the morning's top golfer Caroline Hwang scoring 2-under-par 142 in the match. The Waves golfer scored an even 72 in the first round before shooting 2-under-par 70 in round two.
Her teammate Megan Dennis finished in second shooting an even par for the morning, while Kaleyia Romero and Reese Guzman scored identical scores in both rounds, good for an overall of 2-over-par 146. 
New Mexico State's top performer Karen Miyamoto earned fifth place shooting 3-over-par 147, with first and second round scores of 72 and 75, respectively. Their next two golfers, Suthavee Chanachai and Alison Gastelum, tied with Fullerton's Koda for 6th, scoring 4-over-par 148. 
Cal State Fullerton returns to the greens on Monday to play in the Bruin Wave Invitational at the Saticoy Club in Somis, California.