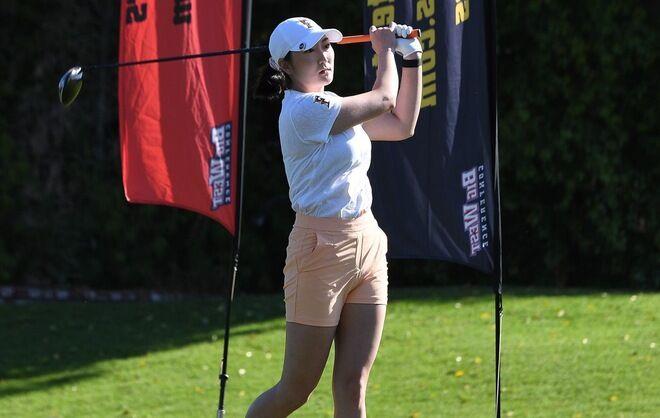 After a dominant 2021, women's golf season, Brittany Shin began competing in the 2021 NCAA Stanford Regional as an individual at the Stanford Golf Course in Palo Alto on Monday.
Shin is currently tied 26th after shooting a 72 on Monday, just one stroke over par.
The top three individuals in the field will advance to the 2021 NCAA Women's Golf National Championship in Scottsdale, Arizona from May 21-26. 
Shin shot one-over on the front nine and then shot even on the back nine. She tallied three birdies, but bogeyed four times.
She struggled on par threes shooting +2 on the day but gained back her strokes on par fours, shooting -2. 
She has two more days of play and currently sits in second out of the five individuals in play and is only two strokes behind the leader, Brigitte Thibault from Fresno State, in the Stanford Regional. 
Cal State Fullerton women's golf finished 6th in the Big West and did not qualify as a team for regional play. Shin is the first Titan to compete in the NCAA Regionals since 2017. 
Shin, out of Cape Coral, Florida, as a freshman last year led the team to three out of five tournament victories, which was a program best, before the season was canceled She continued her strong play in her sophomore season this year.
Shin was named Big West Women's Player of the Year and earned her spot to compete for a national championship. This season she had two individual victories and finished top five in all six tournaments.
Shin must continue her dominant play and stay within striking distance for a shot to qualify for the National Championship from May 21 - 26. 
Shin tees off on Tuesday and Wednesday this week before the tournament will wrap up at Stanford on May 12.