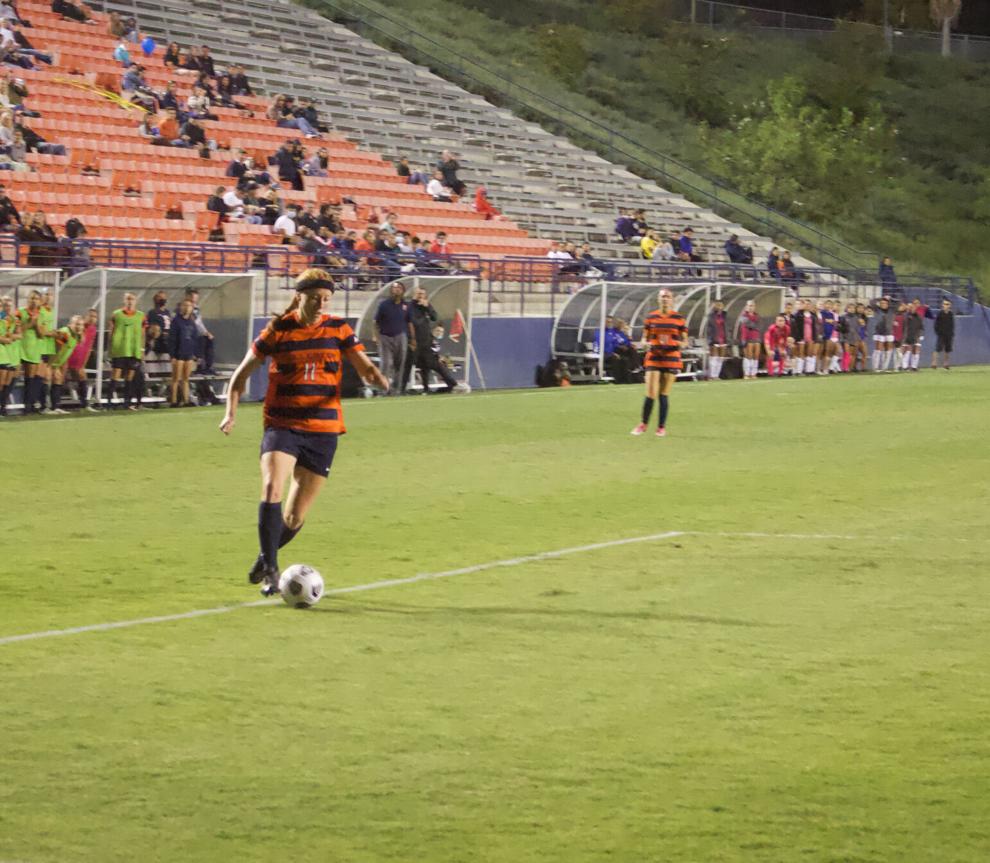 Cal State Fullerton women's soccer won their second game of the season as they scored a season-high four goals and defeated UC Riverside, 4-0. The win put Fullerton on its first winning streak of the season and moved their record to 2-6, while UC Riverside now holds a 3-4 record.
Haley Brown, Callie Petrey-Juarez, Jaden Hall and Madison Kline all scored a goal for Fullerton. Haley, Petrey-Jaurez and Kline all scored their second goal of the season while Hall scored the first goal of her collegiate career.
In the first half of the match, Fullerton attempted eight shots, while Riverside managed only four. Both teams committed a combined five fouls in the half.
Of the Titans' eight attempts, one resulted in a goal in the 21st minute by forward Petrey-Juarez, who was assisted by midfielder Samantha McKenna and defender Meghan Schroh. Goalkeeper DeAira Jackson recorded one save for CSUF in the first half.
After a gritty first half, the Titans took the 1-0 advantage into halftime.
Fullerton came out of the break with a more efficient playstyle as they scored three goals on seven attempts in the second half.
Fullerton head coach Demian Brown said that at halftime he encouraged the team to be "attack-minded" going into the second half as they were playing a passive playstyle early in the season.
Kline scored the first goal of the second half at a little over 53 minutes and was assisted by forward and midfielder Hailey Gough and forward Karla Rodriguez, which helped the Titans take the lead, 2-0.
After a great cross, Haley Brown accomplished a header goal during the 61st minute of the match. The goal was assisted by Schroh and McKenna, which resulted in a 3-0 Fullerton lead with just under 30 minutes left in the match.
The Highlanders played passively, as they only attempted two shots after the Fullerton goal.
The Titans secured their victory as freshman forward Jaden Hall, who only played six minutes, scored the final goal at 85 minutes and 40 seconds.
Demian Brown credited the women's willingness to learn during the last two games, as they had to deal with traveling and going up against great teams on the road.
"Again it's just really nice to be back here at home, to be back at Titan Stadium, it's a place where we do well," Demian Brown said.
For the game, CSUF attempted 15 shots, while Riverside attempted seven — the same amount of shots attempted by the Titans in the second half.
Fullerton will play Loyola Marymount University on Sept. 17 at Titan Stadium at 5 p.m. The match is their last home game before they start a two-game road trip that starts on Sept. 23 at Cal Poly San Luis Obispo.