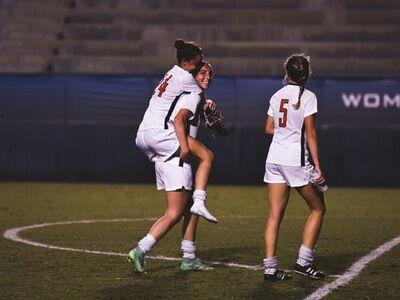 Cal State Fullerton's women's soccer team extended their winning streak to two victories on Sunday after a game-winning goal was scored in overtime against the University of Hawaii. The final score was 1-0. 
Fullerton's overall record is now 6-9 and 3-3 in conference play. They are tied with UC Davis for fifth place in the Big West standings.
In overtime, midfielder Karla Rodriguez scored the game-winning goal off an assist from midfielder Haley Brown. After missing their first overtime shot, Brown assisted Rodriguez off an inbound play from defender Delaney Dombek Lindahl to win, 1-0. 
Hawaii is now 1-8-3 for the season with a 0-4-2 conference record. They have not won against Fullerton since the 2008 season.
In the first half, both teams stuck to a tactical approach on offense as Fullerton attempted three shots and Hawaii attempted seven and both individually shot two shots on goal.
Within the first 16 minutes of the match, three out of five Hawai'i's shot attempts went out on top of the goal box. Two were saved successfully by Titan goalkeeper DeAira Jackson. Two of Fullerton's three shot attempts were saved by Hawaii's goalkeeper Lauren Marquez with the one attempt from Titan defender Megan Day going out near the left of the goalbox.
Fullerton played more aggressively throughout the first against Hawaii as they committed five fouls while Hawaii committed one. 
With the end of a scoreless half, both teams had an opportunity to get the first goal on the scoreboard.
In the second half, both teams continued with the same play style as Hawaii attempted three shots while Fullerton attempted two. During the 59th minute, Rodriguez missed a shot which would have given Fullerton a lead as it went out on the left of the goalbox. Three minutes later, midfielder Mia Foster shot to give Hawaii a lead, but the shot went out on top of the goalbox.
With one last chance to win the game, forward Kaytlin Brinkman missed a shot thus extending the game into overtime. Both teams forced the game into overtime after not putting up any goals and the tension on the field grew as both teams continued to fight for their first score.
After the match, coach Demian Brown referred to Rodriguez as someone who makes the right play in important moments, but he said that the team still has work to do.
"I think there are some things that we let go today that we need to be better and clean up going forward," Brown said.
Brown said he expects the next match against Cal State Bakersfield to be an important one for the Titans as they can not afford to lose going into the conference tournament.
Fullerton will look to extend their winning streak on the road when they take on Bakersfield on Thursday at 7 p.m.