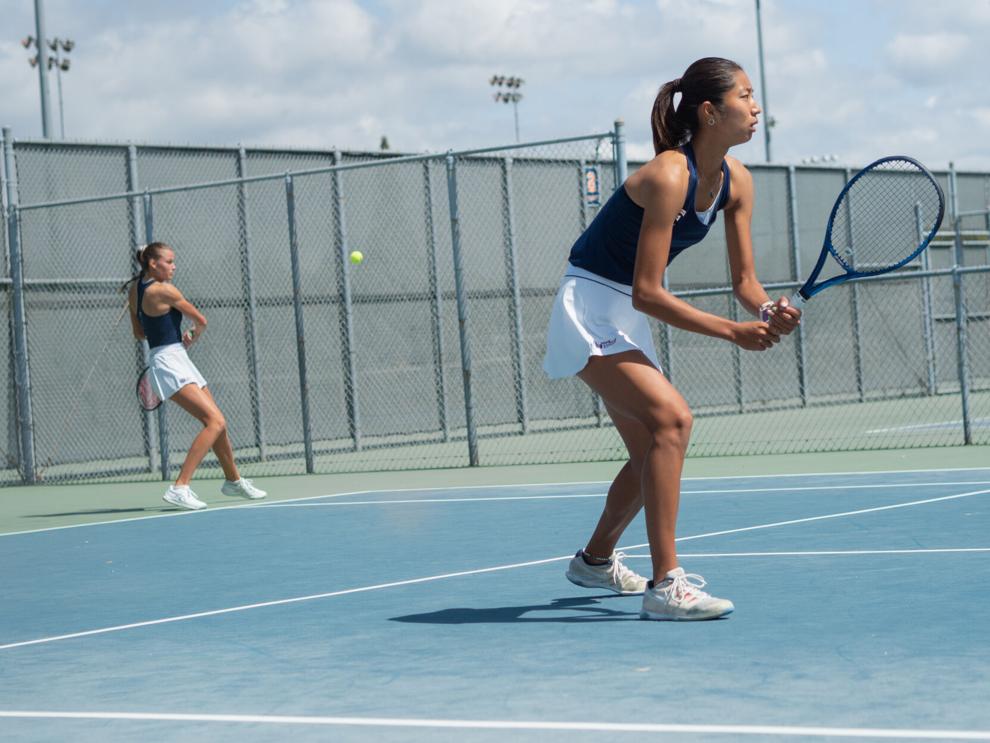 After losing their last two games to conference opponents and looking for a rebound win, Cal State Fullerton women's tennis ended Saturday's match against UC Riverside with a 5-2 victory.
The Titans captured four of the singles victories and two doubles victories, handing the Highlanders their fourth loss of the season, while improving Fullerton's home court record to 7-2 and overall record to 8-5.
Fullerton dominated their opponents in the double matches with YuSeung Suh and Natalie Duffy commanding the court with a 6-1 victory over Serin Saltzen and Sydney Tran. Eira Tobrand and Misaki Kobayashi lost to their opponents Tia Elpusan and Hanh Pham 6-3.
Titans Camila Garcia and Jadie Acidera went down early 0-3 against Mahli Silpachai and Natalie Shamma, but was a force to be reckoned with as they mounted an impressive comeback leaving their opponents on their heels and ultimately winning the set 7-5.
In the singles matches Tobrand set the tone for the Titans as she dominated her opponent Silpacha, only allowing two points between the sets winning both matches 6-0 and 6-2. 
Moments later, Suh followed her teammate by winning both sets, only allowing her opponent to put up one point combined in both matches with scores of 6-1 and 6-0 to give Fullerton a lead with the score set at 3-0. 
Looking to secure the victory and a guaranteed win for Fullerton the final points would come from freshman Juliette Daries after she closed out her match up in two games defeating Sofia Lazzaroni, 6-3 and 6-1. The Titans had a commanding 4-0 lead heading into the final stretch of their singles matches.
Three matches would ensue for Fullerton starting with Acidera splitting sets 4-6, 6-4 with her opponent Shamma, as she tried to close out the final set with a win. Unfortunately she was overpowered and found herself with a huge mountain to climb, but it was not enough as she lost in the tiebreaker set 10-3. 
Duffy won her first set 6-4, but lost the second 4-6. However, she mounted a strong comeback as she defeated Pham 6-1 in the third set.
Kobayashi went toe-to-toe with her opponent Elpusan in their first two matches with scores of 5-7 and 7-5, but ultimately Kobayashi came up short in the tiebreaker set and lost 10-6.
Fortunately, the Titans had already captured the victory before the pair of loses, winning the match 5-2. 
Fullerton is now 2-2 in the Big West competition, having earned losses from UC Davis and UC Santa Barbara prior to their contest against Riverside. They currently sit in fifth place in the conference, but have a tough matchup ahead of themselves with an unbeaten Cal Poly San Luis Obispo team next on their schedule. 
The Titans will hit the road to face off against Cal Poly on Friday with the match set to start at 11 a.m.