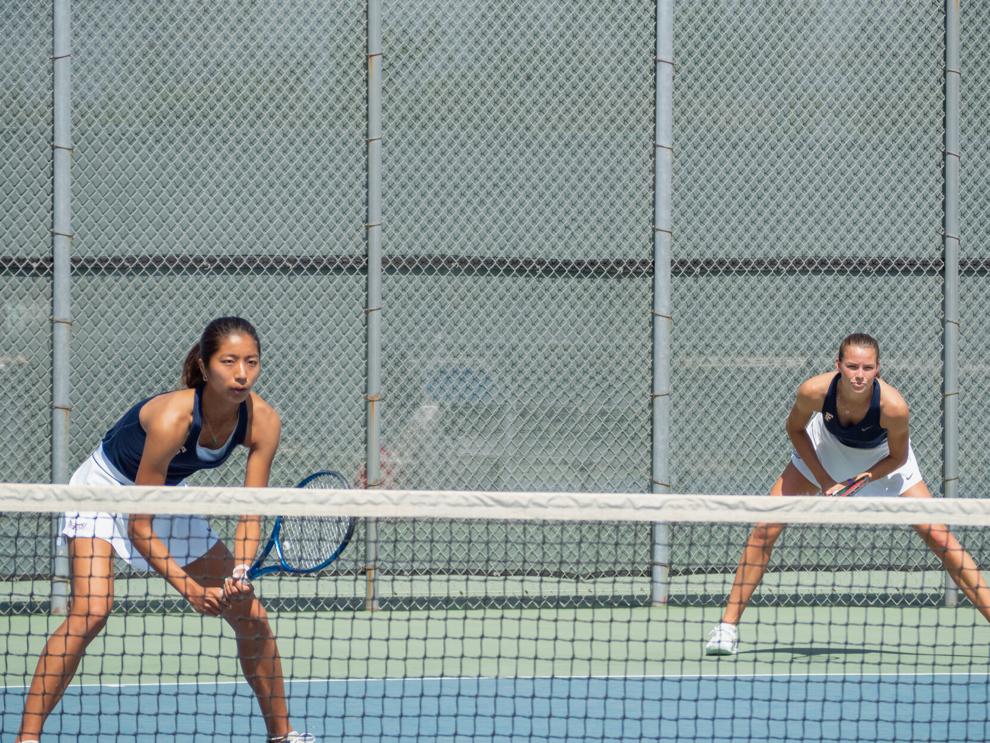 On Saturday, the Cal State Fullerton women's tennis team made the most of their home court advantage as the Titans swept the Fresno Pacific Sunbirds for a 7-0 victory.
This victory marks the fifth home victory for the Titans as they hold a 5-1 record when playing at Titan Courts. Fullerton has now won two-straight matches, both sweeps, as the Titans look to enter Big West conference play with confidence and a winning streak.
With the crucial doubles point in the balance, the Titans were able to get to a fast start in their three doubles matches. Fullerton's YuSeung Suh and Natalie Duffy grabbed the Titans' first doubles victory against Fresno Pacific's Daimy Paula and Alice Marques, 6-2. 
Camila Garcia and Jadie Acidera secured the doubles point for the Titans as the pair defeated Fresno Pacific's Sanne Brull and Alice Di Matteo, 6-2, which gave Fullerton a 1-0 lead going into singles-play.
In the final doubles match, Fresno Pacific's Mariia Borodii and Lea Falentin played a tight set against Fullerton's Eira Tobrand and Misaki Kobayashi. Tobrand and Kobayashi were able to secure the victory without going to a tiebreak set as they won 7-5 to secure a Titans sweep in doubles play.
With a 1-0 lead in hand, Fullerton needed to win three of the six singles matches to secure their fifth home victory of the season. The Titans took the first point of singles-play as Suh only dropped two games in her 6-2, 6-0 victory over Marques.
Fullerton's Juliette Daries sealed the Titans second singles victory, as she defeated Paula in straight sets, 6-1, 6-1.
The Titans sealed their second-straight victory as Kobayashi only lost three games in her 6-1, 6-2 win against Borodii. Despite gaining the four points needed for a victory, Fullerton and Fresno Pacific played out the remaining three singles matches.
The dominant singles play from Fullerton continued as Duffy was the next Titan to secure a win. Duffy's 6-2, 6-2 victory over Di Matteo was the fourth singles victory for the Titans with two matches remaining.
After a close first set, Garcia did not drop a single game in the second set of her 6-3, 6-0 victory over Fresno Pacific's Brull. Garcia's victory moved the Titans one victory closer to their second-straight 7-0 sweep.
In the final singles match, Tobrand and Fresno Pacific's Falentin battled in a tight straight sets match. Tobrand prevailed 6-4, 6-3 as the Titans completed their second-straight sweep without dropping a single set.
Fullerton's impressive start to the season continues as the Titans currently hold a 6-3 record with a 1-0 record in Big West conference play after their March 6 victory over UC San Diego.
Fullerton will attempt to match their season-high three-game winning streak in their final non-conference match against Azusa Pacific University. The Titans will look to use their strong run of form at home to their advantage as their next two matches are at Titan Courts, including a Big West conference matchup against UC Davis.
The Titans will return to play at Titan Courts on Thursday at 1:30 p.m. against Azusa Pacific University.